California Tour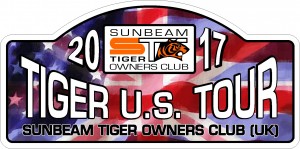 STOC 2017 US California Tour
June 2017
Following the success of the Tiger 50 Monte Carlo Tour STOC would now like to offer members the chance to take your own car to California, the birthplace of the Tiger.
The 2 week tour will take place in June 2017 in order to coincide with the 50th anniversary of the end of the cars production run and allow us to join in with the California Club's Tigers United event. At present the expected date for the start of the tour will be the Tuesday 13th June 2017.
The provisional location for the 2017 Tigers United event, organised by The Sunbeam Tiger Owners Association STOA, is expected to be at McClellan Park, the former McClellan Air Force Base on the outskirts of Sacramento. Further details will be provided as they become available.
It is most likely that cars will be shipped into Los Angeles area. Our cars will be transported from the UK to the west coast of the US most probably by RoRo ferry and return by container. Current advice shows this to be the most cost and time effective method. The transit time is approximately one month each way; cars will be out of the UK from early May until early August. Estimated cost for transit is around £2750 for the return trip, detailed breakdown of shipping, handling and customs costs cannot be determined this far in advance. Cars would ideally arrive in LA a week beforehand and will need to be returned to LA by the 3rd July at the latest (actual date to be confirmed).
Limited to 20 cars, deposits to be made by 31st March 2016.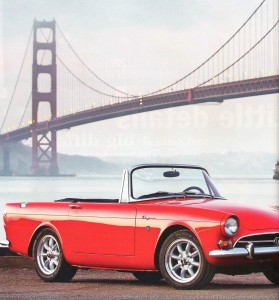 Provisional itinerary – (based on UK departure)
• Tue 13th June – Arrive Los Angeles, private shuttle from airport to Ventura
• Wed 14th June – Ventura, collect cars from port, afternoon spin to Malibu.
• Thurs 15th June – Drive from Ventura to San Luis Obispo.
• Fri 16th June – Pacific Coast Highway, (visit Hearst Castle), Monterey.
• Sat 17th June –  Monterey.
• Sun 18th June – Monterey  afternoon drive north to  San Francisco and across Golden Gate bridge to Sausalito/Tiburon.
• Mon 19th June – San Francisco sightseeing.
• Tue 20th June – Sausalito/Tiburon to Sonoma (visit Cobra Experience)
• Wed 21st June – Sonoma (winelands coach tour).
• Thurs 22nd June – Sonoma to Tigers United Sacramento
• Fri 23rd June – Tigers United (Auto test)
• Sat 24th June – Tigers United ( Scenic Drive/Concours)
• Sun 25th June – Tigers United, final night banquet.
Third week route to individual choice, back to Los Angeles.
The above route/itinerary, timing, locations and attractions are subject to change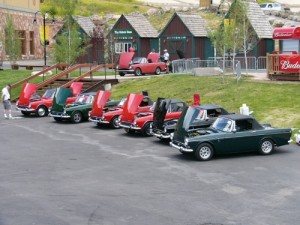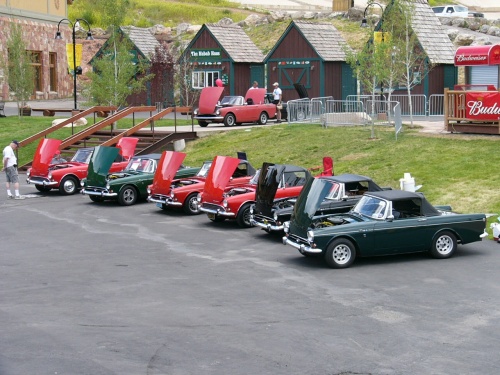 Approximate costs, (based on 2015 prices):
• Transit from UK to California and return – approx. £2750 per car,
• Insurance transit total loss and driving in US for 2- 3 weeks – £1000 per car.
• Hotel costs per night excluding meals, allow around £150-£200 per day per couple.
• Flights Heathrow to Los Angeles – £1400 per couple (economy).
• US Breakdown cover – £100
• Entry to Tigers United, (including some meals) – £300
• STOC (rally plates, shirts etc). – £200
• (Fuel @ £2.50/ Imperial gallon – £150+ – not included)
Prices are per car with 2 occupants.
The tour has four optional packages:
Package 1 – Shipping, flights, hotels (13 nights) plus all above items. £ 8000.
Package 2 – As package 1 less flights. £6600.
Package 3 – As package 1 less shipping and insurance. £4250.
Package 4 – As package 1 less shipping, flights and insurance. (Non-European cars). £2850.
All prices are approximate and may vary due to exchange rate changes and fuel prices.
Brochure giving full details with booking form: 
2017 California Tour brochure, T&Cs v5