California Tour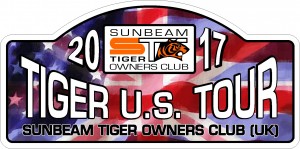 STOC (Tiger 50) California Tour 2017
Flashback to September 2014, The Grand Hotel Cannes – Tiger 50 Monte Tour's final night Gala Dinner.
Following a wonderful week driving down through France I raised the question to those seated on our table how we could top this event and where we would go for the next big Tiger event. Comments were made that we should do something before the sixtieth anniversary, where could we go and what could we do? The, Mr Peter Town suggested Los Angeles; "as that was where the car was born".
And so it began…..
The idea was to combine a West Coast road trip with the annual Tigers United event which is held in June and for 2017, would also be close to the 50th anniversary of the end of Tiger production, a good way to round off the Tiger 50 celebrations which began in 2014.
The planning of the California Tour took two and a half years. Originally a three week tour was envisaged with a daring traverse of Death Valley to Las Vegas in the heat of high summer during week three; however it was later decided that it might be better to reduce the tour to two weeks and allow the individual owner to decide what they wanted to do for week three. Tigers United was to be held from the 22 -25th June in Sacramento, so once this had been established the route planning could begin. Details were announced to club members and affiliates in November 2015, with seven UK and two US couples eventually signing up.
The cast:
Lou & Val Lusardi, Malcolm & Jackie Sedman, Alex & Nicola Walsh, Graham & Ruth Vickery, Ken & Sandy Hubbard, Don Poar & Rachel Culley and Pete & Liz Towns in a locally hired Mustang. From the USA; David Redmond & Sally Kuhl and Bill Rogers with his UK co-driver; Paul Grimsdick, plus Don & Nancy Stauffer
We were advised to use a shipping agent to organise the transportation of the cars to and from California, they informed us that the best option was to use a RoRo ship for the outbound voyage and containerised transport for the return, apparently US Customs can randomly pick out incoming containers and require that they are X-rayed to check the contents causing delays and several hundred dollars of additional charges. The main port for the arrival of RoRo ships in California is Port Hueneme which is a few miles south of Ventura and around sixty miles north of Los Angeles, the cars would depart from the port of Long Beach just south of LA.
With our start and finish destinations determined the route up to Sacramento was relatively straight forward – or so I thought. Heavy storms in the spring of 2017 caused major landslides on the Pacific Coast Highway between Cambria and Big Sur. The bridge at Pfeiffer Canyon was so badly damaged that it had to be demolished. This meant that the proposal to travel up Highway 1 had to be re-routed inland along the 101.
Hotel and flight bookings were taken care of by Merv Bates of Travel Consultants Ltd. I provided Merv with our preferred overnight stops and the criteria that all hotels must be a minimum of three star rating, have a bar, restaurant, safe parking and be no more than $220 per night. Bill Rogers arranged for storage of the Tigers once they cleared US Customs at Wellwood Car Restorations in Ventura. Insurance was provided through Hagerty in the US for shipping and touring whilst in California.
After months of anticipation the big day arrived, on Tuesday June 13th we all arrived at London, Heathrow airport for our flights to Los Angeles, our Tigers had been dispatched from Avonmouth, Bristol six weeks earlier and were waiting for us in the Golden State.
The next day we used the hotel shuttle to transport us the short distance into Ventura to collect our cars from storage. We were joined by our two American Tiger owners, Dave Redmond from Portland Oregon and Bill Rogers who lives close by. The Tigers were all lined up in the yard outside the restoration workshop. Aside from a light coating of dust they all looked fine and were duly fired up ready for the trip across town, with the exception of the two white cars. Ken Hubbards ex race development car was found to be out of fuel but my car had a flat battery, which was beyond salvage. The battery was changed which revealed a charging issue, after replacing the voltage regulator and dynamo the cure was found the next day (by a local hot rod shop), a bad earth between the regulator and inner wing! That evening we invited Dave Wellwood and his wife Sue to be our guests at a local seafood restraint where we also joined by several CAT Tiger members for a superb meal. Due to the effects of jet lag most of us Brits were early to bed in anticipation of the first day's driving
Thursday 15th – Ventura to San Luis Obispo.
Due to my visit to the hot rod shop to sort out the charging issue it was decided to split the group in two with five cars leaving mid-morning and the remaining four just after lunch.
Our route took us all initially along Highway 101 and then inland around Lake Casitas before re-joining 101 through Santa Barbara, then inland again along the San Marcos Pass road to Santa Maria and eventually San Luis Obispo and our hotel for the night the very quirky Madonna Inn, where we were joined by our ninth Tiger belonging to Don and Nancy Stauffer from Laguna Beach LA.
The Madonna Inn is an icon in pink, a bucket list place to stay. With themed 109 rooms, no two alike from the imitation rock Caveman to Yahoo where the bed is a "buckboard" carrage. The gent's toilets have waterfalls in place of urinals. The strangest thing was the toilet seats, heated with a wall mounted switch where you could select a front or rear water jet followed by an air dryer – only in America. The Madonna was our only single night stay, as I wasn't quite sure how people would react to this amount of kitsch.
Friday 16th – SLO to Monterey.
Following a typical stateside breakfast at the nearby Denny's we headed out along Highway 1 to Morro Bay and some delightful country roads selected by Bill Rogers. Today was where we were supposed to travel along the Pacific Coast Highway, but due to road closures we had to use Highway 101's dull dual carriageway from Paso Robles. Luckily our exposure to boredom was only for 50 miles, from King City we headed over the hills to Monterey via the Carmel Valley Road.  While half of the group headed for a cool drink at the hotel some of us turned south so that we could experience the 26 miles of the coast road down to Big Sur, with the obligatory stop at the Bixby Bridge for photos.
The next day I had been lucky enough to arrange some track laps at the nearby Mazda Laguna Seca race track. The track was just a short drive from our hotel, on arrival most of us topped up our fuel tanks prior to circuit access. The plan was for us to have three laps behind a pace car which I had been told was a Mini Cooper, so was expecting to see a classic Mini not a modern one with two mountain bikes on the back! I felt sorry for Ken and Sandy having that thing in front of them. Nevertheless the experience was superb, the "Corkscrew" bend with its blind crest and apex on the approach then a drop which is equivalent to a three storey building is awe inspiring.
The remainder of the day was free to explore Monterey or take in the 17 Mile Scenic Drive past Pebble Beach.
Sunday 18th – Monterey to Tiburon.
The plan was to head along Highway 1 north from Monterey and stop off for coffee at Santa Cruz. But we hadn't taken account of it being Father's Day; the traffic from the highway to the sea front was jammed solid, so we decided to give it a miss and carry on to Half Moon bay for lunch.
Highway 1 hugs the coast along this section with some superb views as you pass by the beaches and bays on route. Before long we hit the outskirts of San Francisco, once again the holiday traffic slowed our progress significantly through the city, with the group fragmented by the time we stopped ate the Golden Gate visitors centre. The car park was chaotic and it took a while to get parked.
We had intended to all drive over the bridge in line abreast, so we made our way across in smaller clusters for the short journey to Tiburon, our base for the next two nights.
Nonetheless the experience of driving your own British registered RHD Tiger across this iconic landmark will live long in our memories.
Monday was allotted for sightseeing in San Francisco. A ferry runs regularly from Tiburon across the bay. Some chose to visit Alcatraz whilst those who had seen the island before chose a tour of the city.
Tuesday 20th – Tiburon to Santa Rosa.
Whether it was the laid back atmosphere at Tiburon or some hypnotic airborne substances emanating from the 50th anniversary of the "Summer of Love", something had an effect on members of or group. Don Poar left $500 in his room safe and Paul Grimsdick forgot his shirts from the wardrobe. Thankfully all was returned sometime later.
A leisurely start saw us leave at 11.30 for the short drive to Martinez where the Cobra Experience had kindly opened their doors for us to visit (they normally only open on weekends). Whilst travelling at a brisk pace along the freeway a truck in front of us shredded its tyre causing some cars to break sharply and several Tigers to take drastic avoiding action! A potential disaster was fortunately avoided.
The Cobra Experience houses a superb collection of Shelby's finest creations. These ranged from virtually all the versions of the Cobra, Daytona Coupe's, Mustangs and most importantly the second prototype Tiger. We all had a wonderful time which was rounded off with a movie show in the centres cinema giving telling the story of how the Cobra came to be.
Over the week that we'd been in California the weather had been superb with azure skies every day. The temperatures had been manageable whilst on the coast, but as we headed inland to our next destination in the California wine country the mercury was on the ascendance. We arrived hot and bothered at the Hilton in Santa Rosa only to find out that I'd led the group to the wrong hotel, so we all had to climb back into our cars for the ten mile journey back south to the other side of the town where we finally arrived at the "Doubletree" by Hilton, not ideal when it's in the nineties.
A wine tour was arranged for the next day. We were picked up at the hotel by Rob our guide from Platypus Tours. We visited three small local wineries in the Russian river area just north of Santa Rosa, had a great day and arrived back slightly merry by late afternoon.
Thursday 22nd Santa Rosa to Sacramento
Rather than taking the freeway our route for the day would take us on backroads (similar to UK "B" roads), to St Helena in the upper Napa Valley where we had a most enjoyable coffee and cake stop. The second part of the journey to Sacramento took us over the hills on some superb driving roads past Lake Hennessey and Berryessa before dropping down to Davis in the Central Valley.
By now the high temperature was becoming distinctly unpleasant, so a planned visit to the Auto Museum in Sacramento was abandoned in favour of heading direct to our hotel at McClellan Park where the Tigers United event was based. The cars were coping admirably with the heat; the same couldn't be said for the occupants! Temperatures that afternoon reached 43°C, almost 110°F; many cold beers were consumed in the bar where we got to meet some of our US Tiger hosts.
A report of the Tigers United event will be covered elsewhere in CW, suffice to say that we were all made very welcome and thoroughly enjoyed our visit.
On the following Monday morning we all met for breakfast before going our own ways, some headed straight back to LA, one couple north to Oregon and Washington States (minus their Tiger), another couple to Lake Tahoe, Mammoth Mountain and LA. Three Tigers visited Yosemite and Sequoia National Parks before hitting LA and depositing the cars for their journey back to the UK in ocean containers.
Aside from my charging issue in Ventura and a minor carburettor problem for Don's Tiger on route to Martinez all of the cars ran reliably despite the very high temperatures we experienced, especially as some of this was also faced at altitudes of over 7000ft for those on the journey back to LA.
What next – After the success of the Monte Tour and now the California adventure, how can you top these? Maybe a tour following the route of the Tulip Rally or a re-run of the coast to coast journey across America taken by Messer's Wildgoose and Corey in the 1980's.
Watch this space!
Postscript
Sadly, a few days after we returned to the UK, we were informed that Dave Wellwood the owner of the restoration shop in Ventura had suddenly died. Dave had generously stored our Tigers and was very helpful when some of us had minor car issues on arrival. Our condolences go out to Dave's wife Sue.
Quotes:
Don & Rachel
One of the greatest highlights for us was driving over the Golden Gate Bridge. Rachel had longed to do this ever since she saw a black and white line drawing of it  in her school geography book! To be able to cross this iconic bridge on a beautiful sunny afternoon in our own Tiger was just amazing.
Bill Rogers
Monte was terrific – had to do CA and help this time, so it was great to see a plan come together. Previous mission accomplished was the hairpin at Monaco and this time the Corkscrew at Laguna Seca, America's iconic corner, was our goal. Heat and amazingly reliable cars – Bravo all!
Paul Grimsdick
The highlight of the tour for me was continuous as it was the never ending backdrop vivid blue skies with the hills changing from golden to green vineyards and twisty roads through the trees, all viewed from a Tiger in great company.
I was extremely fortunate with my late invite to share this tour that Lou had prepared so well.
Special thanks to Bill & Carol Rogers for making it possible.
David & Sally
The highlight of the Tour for us was Monterey Peninsula that included the 17-Mile Drive along the majestic Pacific coastline, passing famous golf courses, mansions and gardens followed by lunch at the Pebble Beach Golf Course. Driving my Tiger on Mazda Laguna Seca Raceway a second time after 50 years, almost to the day, was thrilling! ( July 1967 and July 2017).
Alex & Nicola
Although our memory of the end of the day is a bit hazy the vineyard tour was one of the highlights for us. The more we tasted it seemed to just get better and better – great wines, interesting chats with the owners, and the most amazing (and huge) sandwich lunch.
Ken & Sandy
Our biggest smiles were from just the sheer joy of driving our own Tiger in California and being photographed so frequently we felt like celebrities. On more than one occasion tried to pay for petrol but had to wait as cashier had run outside to take a photo! 
Liz & Pete
My memorable occasion was when we went to dinner in Tiburon at the lovely Luna Blue restaurant.
Our lovely maitre d made sure we had a superb evening and her husband (the chef), created some wonderful dishes for us.  The food and company were excellent.  A fabulous memory to be treasured.
Lou & Val
For Val it was driving in the Tiger down and to Big Sur on the Pacific Coast Highway.
For Lou it was the Corkscrew bend at Laguna Seca and leaving early on the morning we were to depart Tiburon to take photos of the Tiger just beneath the Golden Gate Bridge, just me, the Tiger and a few guys fishing on the nearby pier.
Ruth & Graham
In a word 'EPIC'. Our journey up the Californian coast was a spectacular challenge and meeting  fellow US Tiger nuts along the way was a real treat. Tigers United topped it for Ruth and me, despite 105F temperatures. We wish to thank Lou and Val for putting the Tour together – a great job! And Bill Rogers and David Redmond for keeping our feet calmly on the ground!! Not forgetting the special parade laps on the Mazda Raceway.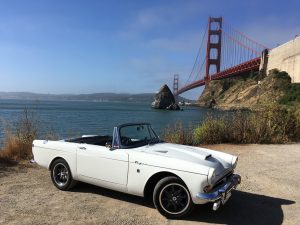 Itinerary 
• Tue 13th June – Arrive Los Angeles, private shuttle from airport to Ventura
• Wed 14th June – Ventura, collect cars 
• Thurs 15th June – Drive from Ventura to San Luis Obispo.
• Fri 16th June – Pacific Coast Highway, Monterey.
• Sat 17th June –  Monterey, track laps at Mazda Laguna Seca Raceway.
• Sun 18th June – Monterey  afternoon drive north to  San Francisco and across Golden Gate bridge to Tiburon.
• Mon 19th June – San Francisco sightseeing.
• Tue 20th June – Tiburon to Santa Rosa (visit Cobra Experience)
• Wed 21st June – Santa Rosa (winelands coach tour).
• Thurs 22nd June – Santa Rosa to Tigers United Sacramento
• Fri 23rd June – Tigers United (Auto test)
• Sat 24th June – Tigers United ( Scenic Drive)
• Sun 25th June – Tigers United, (Concours), final night banquet.
Third week route to individual choice, back to Los Angeles.
Here are some shots from our track day at the  Mazda Raceway,Laguna Seca.