Looks like fun, anybody know who and where this was? All I know it's in Wales somewhere.
---
---
Posts: 650
Joined: Sun Dec 30, 2007 10:57 am
yours wont do that tony .you carry too much crap in the boot .
---
---
---
It is possible somewhere on the Epynt Millitary Ranges.
Dave Puzey
1965 Midnight Blue Tiger
1958 Speedwell Blue Sprite
1967 Mid Grey SWB Land Rover
2011 Scuba Ford KA

Used to own 1985 Targa Red Rover 3500 TP Vitesse
---
---
We are talking here about Patrick Watts. Among much else as a circuit racer and rally driver - a Tiger owner, former top Touring Cars Peugeot racer and outright winner of the
2006 Armajaro MSA British Historic Rally Championship
The answer to Tony's photo poser is the Welsh Historic Rally of April 2006 when Patrick & Elgan Davies managed a DNF!
Bunch of info and photos here:
http://www.sunbeamtiger.co.uk/Galleries ... atts_1.pdf
http://www.sunbeamtiger.co.uk/Galleries ... atts_2.pdf
http://www.sunbeamtiger.co.uk/Galleries ... atts_3.pdf
http://www.sunbeamtiger.co.uk/Galleries ... atts_4.pdf
Graham
STOC Editor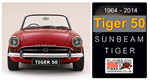 ---