Posts: 173
Joined: Mon Mar 02, 2009 8:18 pm
Location: Kent
---
Value is a two edged sword - Yes it is very nice for owners to see an asset appreciate, and it is much more likely that more borderline cars will be restored due to their perceived value after having money spent on them,
BUT will they still be deemed as useable and be seen out and about, both everyday and at events.
It seems that the lack of interest from any form of savings has made "investors" with cash to spare look, again as they did in the 80s, at classic cars perceived to hold or increase their value. And these are not enthusiasts remember, just investors.
This debate has been going on for some time re; Old Aston Martins and was recently fired up by Bonhams selling a lovely, but not exceptional, Ulster for £1.3 million. I know its on a different level to us (as yet), but would you be out using something worth that much money - or do you just hope that one day your Tiger will be!
---
I'd venture to say that Tiger pricing today starts at £10,000 for a bag of bits and goes out to £500,000 for a Goodwood Revival 'TT' eligible Le Mans Tiger. But price guides are all over the place. Check out the ranges currently suggested by Hagerty and Practical Classics ... up to 50% out from one another:
HAGERTY v PRACTICAL CLASSICS (in brackets)
Tiger MK 1: Fair £15,200 (£10,000) - Good £24,700 (£18,500)- Excellent £36,200 (£27,500) - Concours £48,600 (£32,500)
Tiger MK II: Fair £24,700 (£16,000) - Good £43,400 (£27,500) - Excellent £51,800 (£40,000) - Concours £67,900 (£50,000)
Personally I believe the Tiger is still well undervalued compared with Shelby cousin cars and the AH 3000. Never mind the Tiger doesn't have the competition history of the Cobra the 260 Cobra commands £400,000+
With interest rates unlikely to rise much over the next few years and deposit rates stuck well below the inflation rate there is zero incentive to hold cash. What's that old adage 'invest in things you know'!
Much is being made lately of the 1989 'bubble' bust and that the current 'market' is overheating but its worth remembering that in August 1989 the UK base rate was around 14%. That's worth keeping cash for but doubtful we will ever see that again!!
In the meantime 99% of STOC Tigers that are on the road are on the road and not on trailers!!
IMHO !!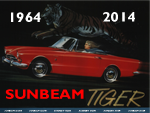 ---