SPOTLIGHT
Club Member: - Michael Cooper
Fact File
I bought my Mk1 Tiger in February 1968 after yearning for a more powerful car than my then Brabham - tuned Ford Cortina. A friend of mine Graham Osmond, a fellow member of the Club, mentioned an acquaintance in Sussex who had a Tiger for sale; this turned out to be a middle-aged farmer's wife who was scared to death of the vehicle and was anxious to purchase something more sedate and suitable for shopping. I bought the quite standard Tiger for £750 with about 5000 miles on the clock. I had the Tiger re-sprayed from white to dark brown, having also considered yellow. I believe this 'hip' colour at the time was 'Sahara sand' - thank goodness I went for brown. My then girl friend - an actress and writer - turned out to be the cousin of our salubrious Chairman - Graham Vickery!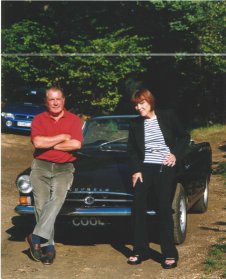 | | |
| --- | --- |
| Michael and neighbour Mary Quant | On the "Le Mans" film set with Steve McQueen |
Familiar
I used the Tiger as my sole means of transport for many years and as a motor racing photographer it had many trips to continental Grands Prix with total reliability. However, on one occasion the clutch expired on my way back from the British Grand Prix at Silverstone. I waited until the early hours before driving back to Chelsea non-stop, predicting traffic lights and road junctions. It also let me down on the very first day of my honeymoon abroad, and whilst my new wife Liz and I waited on the kerbside sharing a tin of cold beans, the local French garage mechanic sorted out an electrical problem. Ironically, electrical problems struck again exactly 25 years later on an anniversary trip to France but on that occaision the Tiger had to repatriated!
My son Ben who works with the Williams racing team as an aerodynamacist has said before now he would like to put the Tiger in a wind tunnel to see whether it would be possible to improve the Tiger's cooling weaknesses without spoiling Ken Howes original styling.
Funny
I first became aware of the Sunbeam Tiger at the Le Mans 24 Hours in June 1964 when I photographed the No 8 Tiger driven by Ballisat/Dubois just as it's engine gave way in a huge plume of white smoke. (CW 59 will include a couple of photos. Ed). A few years later I also worked as a professional extra in the Steve McQueen 'Le Mans' film and the famous star was very impressed when I allowed him to drive the Tiger.
My studio in London was situated in Kingly Street, just round the corner from Carnaby Street. Parking was impossible but I used to leave the car in Regents Park. The poor old thing was twice attacked by vandals - once all the wheels were removed there and a second time it was
abandoned in Slough, again wheel-less. Soon after the Tiger was laid up throughout the eighties
as it was neither practical with a young family nor for daily commuting to London. The mechanics were overhauled about five years ago but the interior is long overdue for a makeover; we have to hastily put the tonneau cover on when parking now! I recently changed the registration number as I had a generous offer for 2 NPJ and I found a more appropriate one - COO4; with an old four the plate almost reads COOL..... something we all know it's not in heavy traffic!!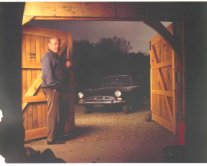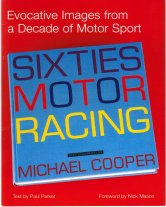 | | |
| --- | --- |
| Mike and COO4 | Glory of 60's F1- published Dec 2000 |
Finally
I am presently on my third Subura Impreza - this time a 280bhp P1 and driving this 2 litre-charged car makes the 4.2 Tiger seem very pedestrian. But I love the old car and still enjoy open - air motoring. I can't imagine parting with my Tiger - it's part of our family.
---
back